The 2019 edition of the Palio del Baradello will take place from August 30 to September 21.
---
Complete program
Friday, August 30, 2019 – Church of Sant'Abbondio
hours 8:30 pm – Votive Candle Offer
On the occasion of the celebration of the patron saint of the village, the Captains and Gonfaloniers of the Villages, Contrade and Municipalities participating in the Palio del Baradello will attend the celebration of First Vespers. At the end of the ceremony will take place the traditional offering of the votive candle during which the Bishop will give the blessing to the cloth and those present.
Sunday, 1 September 2019 – Castle Baradello
hours 3:00 pm – Visit to the Stone Sentinel
Performance of various groups: the Archers of the Winged Dragon, the Flag-wavers and Musicians of Tavernola, show with The Falconer of the Fief and medieval dances with the Kalenda Maya.

Visit to the Tower – The Voluntary Ecological Guards of the "Parco Regionale della Spina Verde" will illustrate the history of the castle and accompany those present to visit the tower.

5:00 pm – Celebration of Holy Mass.
Wednesday, 4 September 2019 – San Giacomo
ore 9:00 pm Celtic Harp Orchestra Concert
"La dama e l'unicorno" Spiritual Elevation in church of San Giacomo with the Celtic Harp Orchestra. Free entry.
Saturday, September 7, 2019 – Cavour Square, Piazza Duomo and Broletto
h 5:30 pm Landing in Como of Emperor Federico called "Barbarossa".
The imperial couple and the rest will arrive from the lake aboard a flotilla of "batell". Upon disembarkation from the typical Larian boats, also known as lucie, the emperors will be welcomed by the bishop and the consul of the city.

At the end there will be a procession from Cavour Square to Piazza Duomo where the Dignitaries will humiliate the keys to the city to their Majesty. This will be followed by a reading of Roncaglia's Edict, the Captains' oath and the trial of a heretic.

Around the ceremonies will perform Flag-wavers and Tavernola Musicians, Musicians In Itinere, Group dances Kalenda Maya and, acrobatic show Circovolante ASD

hour 8:30 pm San Francesco Medieval Dinner
A 12th century kitchen serving banquet. The evening will be enlivened by music by Musici In Itinere, group dances Kalenda Maya and show of medieval artists with acrobatics Circovolante ASD in the company of the Emperors and also open to the public. At the end of the fire show Circovolante ASD.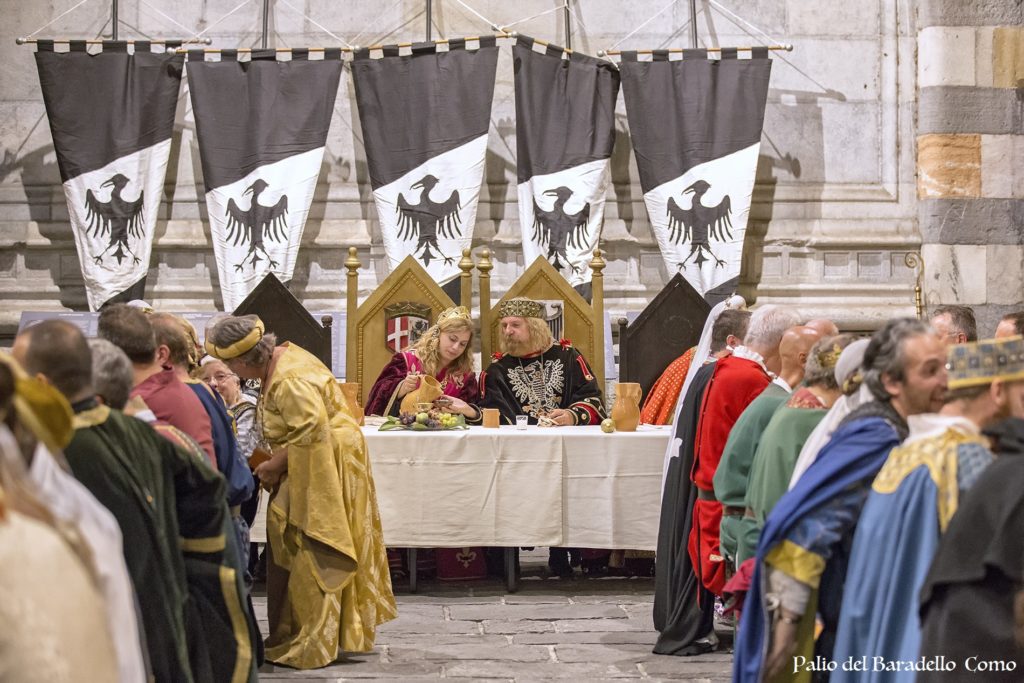 Sunday, 8 September 2019 – Villa Olmo
Official competition: Sailing race of the Lucie and afternoon dedicated to children.
from 3:00 pm Medieval games and shows with ANCIENT GAMES Dado d'Oro, Messer Luigi and his board game, Flag-wavers and Tavernola Musicians, Falconry Show with Falconere del Feudo, Medieval dances with Gruppo Malastrana, lace demonstration with Gruppo Le Amiche e gli Amici del Tombolo, Gazebo with greyhounds, Parada par Tücc.

Guided tours in the Park of the Villa.

Race with the Crews and the "Batell" made available by the Italian Rowing Federation Fixed Seat.

5:00 pm – From the Riva in front of Villa Sucota start of the first official race of Lucie.
The typical Larian boats, pushed by the rowers, will compete for the colors of the villages and municipalities to which they belong.

At the end of the race there will be the awarding of the winners

Thursday, September 12, 2019

hour 5:00 pm – guided tour by the Archaeological Society of Como

Theme: "The Western Walls", walk in the historic center by the Archaeological Society Comense. Duration: about an hour and a half.
Appointment in front of the Civic Museums in Piazza Medaglie d'Oro.
Free participation.

Saturday 14th September – Piazza Duomo, Broletto, Piazza Grimoldi
Tug-of-war race, Medieval focacceria, Cariolana race

hours 3:00 pm Piazza Duomo official race: The tug of war
At the end of the race there will be the awarding of the winners.
6:00 pm hours under the porch of the Broletto – Medieval Focacceria
Cooked focaccia with a small wood-burning oven.
9:00 pm start of the official race: La Cariolana

Durante la giornata esibizione degli Sbandieratori e musici, Tavernola e del gruppo Ordallegri. Al termine della gara farà seguito la premiazione dei vincitori.

During the day exhibition of flag wavers and musicians, Tavernola and the group Ordallegri. At the end there will be the awarding of the winners.
The evening will continue with a fire show with the Group Ordallegri.

Sunday, September 15, 2019 – Horse chestnut area Cavour Square Grand Historical Procession

departure at 2:30 pm from the horse chestnut area

With the participation of all the villages and municipalities participating in the Palio, the Emperor Frederick and the Empress, with the retinue of Nobles and Ladies, Knights, Militia, Army and Guards, will follow the war machines and the cart.

The Grand Historical Procession will be enriched by numerous medieval groups, Flag-wavers and Tavernola Musicians, groups of musicians Vagus Animi, company with greyhounds dogs, company with Bolognese dogs, medieval company Gruppo Ordallegri, group Le amiche e gli amici del Merletto, Group Kalenda Maya, the duelists Jirga with black blades, the Mercenaries of the black rose, the Waders of the Parada par Tücc, medieval delegations of Lugano and Cantù, Flag-wavers and musicians of Alba, Flag-wavers and musicians of Fenegrò, The Group ABC lace. The Palio of girls and boys opens with the participation of the delegation "Dal castello in aula e… oltre" by Crevenna

The route will wind through the city streets Via Aldo Moro, Via XX Settembre, Via Milano, Piazza Vittoria, Largo Gianfranco Miglio, Via Cesare Cantù, Via Paolo Giovio, Piazza delle Medaglie d'Oro, Via Vittorio Emanuele, Piazza Duomo, Via Plinio, Piazza Cavour where, waiting for his arrival, those present will be entertained by a group of medieval dances.

5:00 pm spectacular performance of all groups who participated in the parade.

At the end of the process, the PALIO ASSEGNATION and the PROCLAMATION OF THE WINNER BORGO OF PALIO 2019 AND THE DELIVERY OF THE DRAPPO will be carried out.

In case of bad weather the procession will be moved to Sunday, September 22, 2019.
Saturday, 21 September 2019 – Piazza Volta, Via Grassi, Via Garibaldi
Children and families day

2:30 pm program: Children's investiture in Cavalieri dell'Imperatore and Dame dell'Imperatrice, mini falconry course and falconry show with Il Mondo nelle Ali, workshops and scenes of medieval life, Archers of the Winged Dragon, market of craftsmen medieval hobbyists, the Group ABC lace, medieval rides and games, raids of Morgana and his carriage; medieval dances with the Kalenda Maye, the Waders of the Parada par Tücc group of flag-wavers and musicians, Tavernola, groups of jugglers Circoliamo, group of lace with tombolo, group Friends of Tombolo, Messer Luigi and his board game. Medieval treasure hunt.

In case of bad weather the event will be postponed to Saturday, September 28, 2019.

---

For more information

Visit the official site