There are several options for getting around the Lake Como area, either privately or by public transportation.
By BUS
There is a bus system operating from Como city to the western lake shores.
The main lines that run along the shores of Lake Como are the C30, which connects Como with Bellagio via Nesso and the C10 line that connects Como with Colico, passing through Tremezzina and Menaggio.
C30 – Como / Nesso / Bellagio
Wintertime (from 12/09 to 08/06) / Summertime (from 09/06 to 11/09) / Bus Stops
C10 – Como / Menaggio / Colico
Wintertime (from 12/09 to 08/06) / Summertime (from 09/06 to 11/09) / Bus Stops
Complete list of routes and stops →
Map of the suburban public transport network →
Map of the urban public transport network →
Stops with the main Points of Interest on Lake Como
Explore the main points of interest of Lake Como →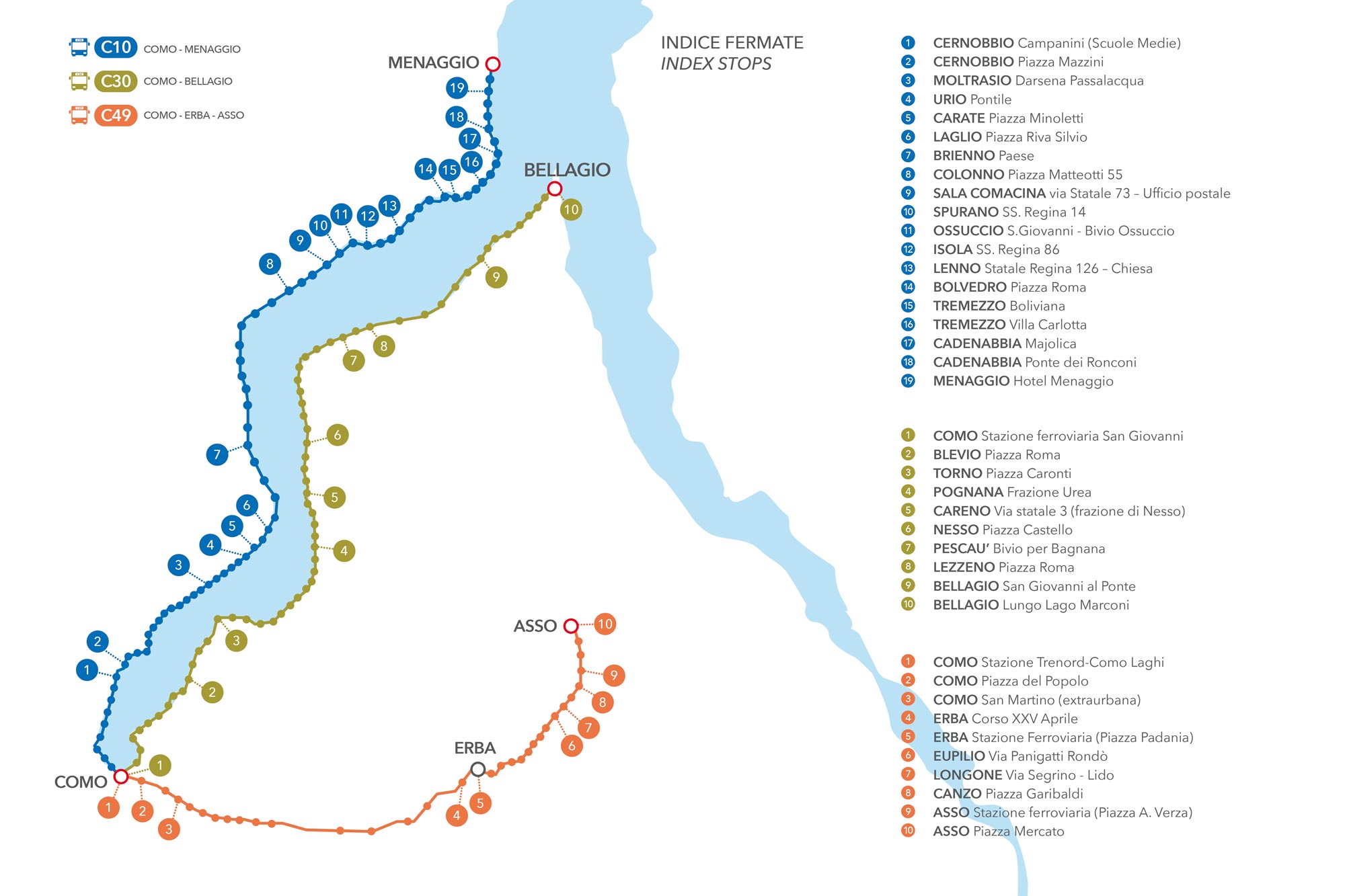 ---
By TRAIN
Trains cover the easternmost shore of Lake Como. To get to Central Lake Area you can take the line from Milan to Sondrio and stop at Varenna.
Trenitalia – Book your ticket →
Trainline – Book your ticket →
Omio – Book your ticket →
---
By BOAT
A great way to explore the lake area is by boat.
There are three types of boats: slow boat (battello), great for leisurely travellers and for taking photos from the outside deck; rapid-service by hydrofoil (aliscafo); and car ferry (traghetto) service in the central lake area, which also takes pedestrian passengers.
Navigazione Lago di Como – Ferry and Boats Schedules and Routes
Mid-Lake Shuttle
The Mid-Lake Shuttle is available until October 1st with a "north" and a "south" run (first departure at 8:35 a.m. from Bellagio) and guarantees a constant connection between the various piers of the Lake Centre, from Lenno to Varenna.
Customers are informed that from Saturday July, 6th to August, 31st 2019, there will be performed the additional runs. Access on board is also allowed to free daily circulation tickets owners.
---
By TURISTIC LOCAL TRAIN
You can enjoy the breathtaking views of the Lake Como aboard the Trombetta Express turistic trains, running from Menaggio to Lenno (Tremezzina).
View timetables and prices:
Menaggio – Lenno (Tremezzina)
From Sunday 4 September:
First departure from Menaggio at 10.00am from Lenno 10.30am
Last departure from Menaggio 04.25pm from Lenno 5.00pm
Only on Tuesday, first departure from Menaggio at 9.00am